Jared & Amanda Posted on November 01 2021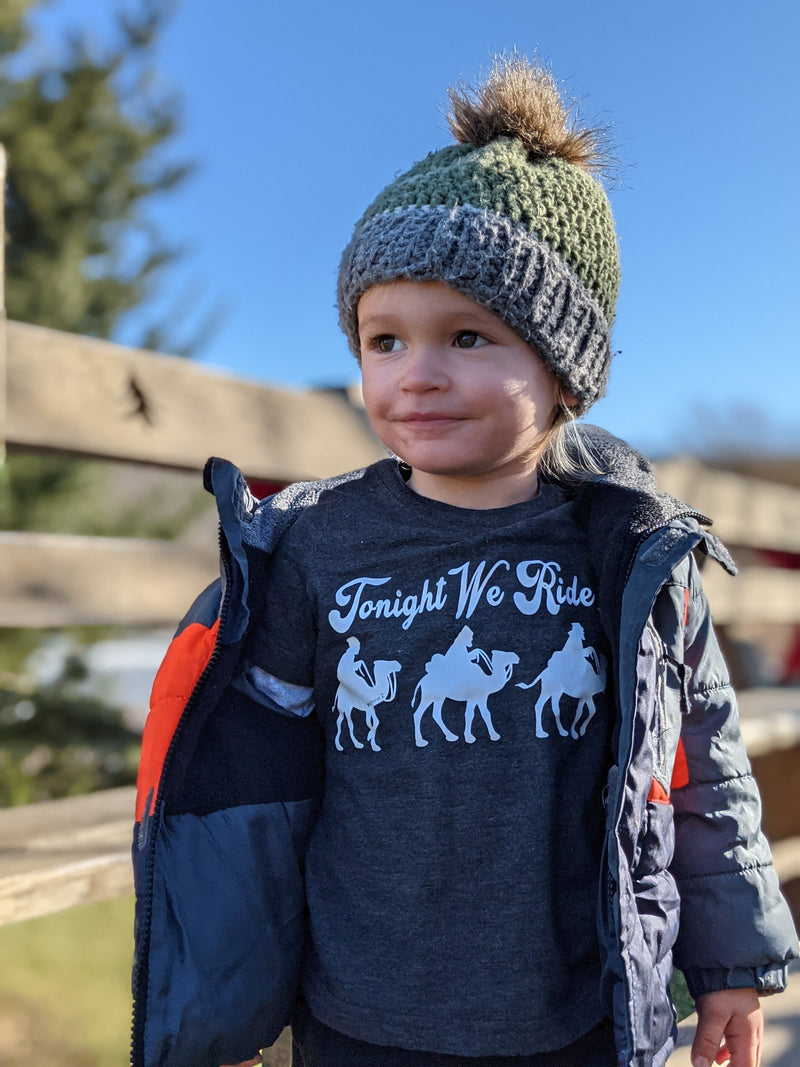 Tonight We Ride: Christian Christmas Shirt
Matthew 2
After Jesus was born in Bethlehem in Judea, during the time of King Herod, Magi from the east came to Jerusalem and asked, "Where is the one who has been born king of the Jews? We saw his star when it rose and have come to worship him."
Have you seen The Nativity Story? It is a wonderful depiction of the true Christmas story. Our first & original Christmas design was birthed from the charismatic wisemen from The Nativity tale. These Magi were on mission to find what the stars in the sky pointed to. They did not know who or what or where or how they would get there, but they followed the light; they followed the signs. They did not understand the Maker of the Light, but they knew He was sending them a message. So they rode, they risked a great deal, and they sought the One upon whom the light shone. Jesus, our precious savior baby, Jesus. 
Tonight We Ride takes a common phrase used in our culture today and weaves it with a Biblical truth. This is what our ministry through this shop tries to do again and again. We want our culture to see the truth of Jesus through our everyday surroundings of life. His power, His presence, His significance is still relevant today for He is in all, through all, and with all forever and ever. Our first Christmas shirt will not be our last for we remain on mission to continue to be messengers of His light. 
Do you ever wonder what happened to the wisemen once they left Bethlehem by another route? What do you think they did? Where did these Magi go? Do you think they returned home and continued to live their life the same? Or do you think they were changed? Did they change their course of life because of their encounter with the baby King Jesus? Oh, how I hope they changed course from studying the stars and instead studied the Maker of the Stars. On this side of Heaven, we will never know, but, when I look at those around me (even myself in the mirror), I wonder, Do I change course after my encounters with Jesus? Do I? Do you? Or do we return to the old, former ways, forgetting, dismissing, boxing away His power? 
Jesus, Holy Jesus, Sweet Baby Jesus. May I ride to You and for You all the days of my life, remembering where the star pointed as well as who holds them all to this day. Thank You, Jesus, for coming to earth. May I ever ride the path You have set before me. Tonight I ride to You, my mighty King, El Shaddai. Amen.
After they had heard the king, they went on their way, and the star they had seen when it rose went ahead of them until it stopped over the place where the child was. When they saw the star, they were overjoyed. On coming to the house, they saw the child with his mother Mary, and they bowed down and worshiped him. Then they opened their treasures and presented him with gifts of gold, frankincense and myrrh. And having been warned in a dream not to go back to Herod, they returned to their country by another route. -Matthew 2:9-12
"Is not God in the height of heaven? Look also at the distant stars, how high they are!" -Job 22:12