Jared & Amanda Posted on August 30 2021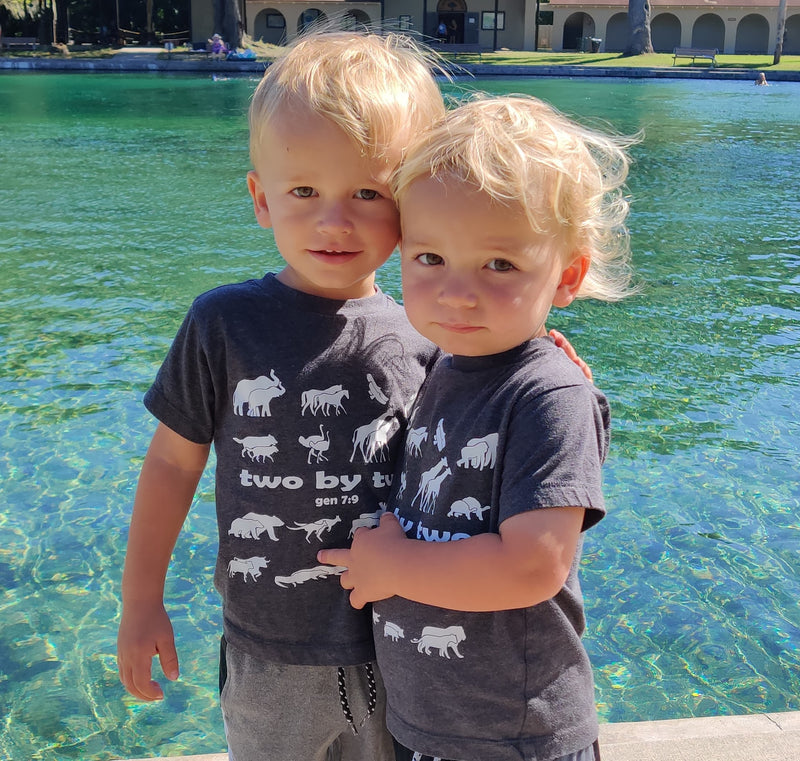 Two by Two
The clean and unclean animals, the birds, and everything that crawls along the ground came to Noah to enter the ark, two by two, male and female, as God had commanded him.…Genesis 7:8-9
Our TWO BY TWO design. Such a popular one with the young kiddos. Once you have met our family of six, it would not take long to determine from where this idea came: our twins!  In November of 2018, we gave birth to two little men, taking our kid total up to four. Our world changed dramatically with the addition of these two! Their energy, spunk, & spirit are endless. From Big Wheel riding into our house walls, creating beautiful watercolor paintings on themselves and on paper, to climbing everything in sight--our tiniest men keep us on our toes! We continue to pray for their paths to stay aligned with Christ's best plan for them, because we know He can use all that PIZZAZZ for His glory! Life with twins has its ups and downs, and we are forever thankful for these little ones in our life.   
Not surprisingly, our TWO BY TWO design arose while I was pregnant with the boys. Dad spent many hours finding just the right animal silhouettes and then meticulously working out how to layer them together so they appeared to be marching two by two on the shirt. Elephants, bears, lions, gorillas, giraffes, and more saunter across the front of this cute Christian top. Presenting the story of the animals, the flood, and of Noah in a light-hearted way such as this may be the option you choose to take for your children, as we did for ours, but, around the age of five, we shared with them the greater significance of the flood, the ark, Noah's radical obedience, and the truth of the rainbow. When one stops to grapple with the call placed on Noah, most of us (myself included) would be like, "Umm...God, really? LIke a boat? A really big boat in the middle of this desert?". But Noah did it, much to the scorn & ostracism of others. Faith like that. That's something. The feat Noah accomplished for God can be seen today at The Ark Encounter in Kentucky. This unbelievable place is somewhere we recommend experiencing when your children are at the age to absorb, reflect, and question all they see around them: the life-sized ark (massive!), paintings portraying the evil in the world, the unique animals believed to have been on the boat (no lions or tigers as we know them today!), and more. The Two By Two scripture is brought to life at The Ark Encounter, and we are confident your family would love it.  
Two by Two may be the shirt for you. Whether you have a dynamic duo as we do, a kiddo who loves animals, or want a really cute design that leads others to ask you about your faith, this shirt is another in our Christian Collection at Born Again Apparel Co. Thank you for supporting our family's faith-filled business. From our Two by Two to your crew, be walking (or Big Wheel riding) a life for Jesus!
Two by two/ Noah's Ark/ Christian Shirts/ Christian Clothing for Kids/ Two by Two/ TwoxTwo/ Noah's Ark/ Bible shirt/ Faith clothing/ Faith shirt for Children/ Children Christian Top