Jared & Amanda Posted on July 11 2021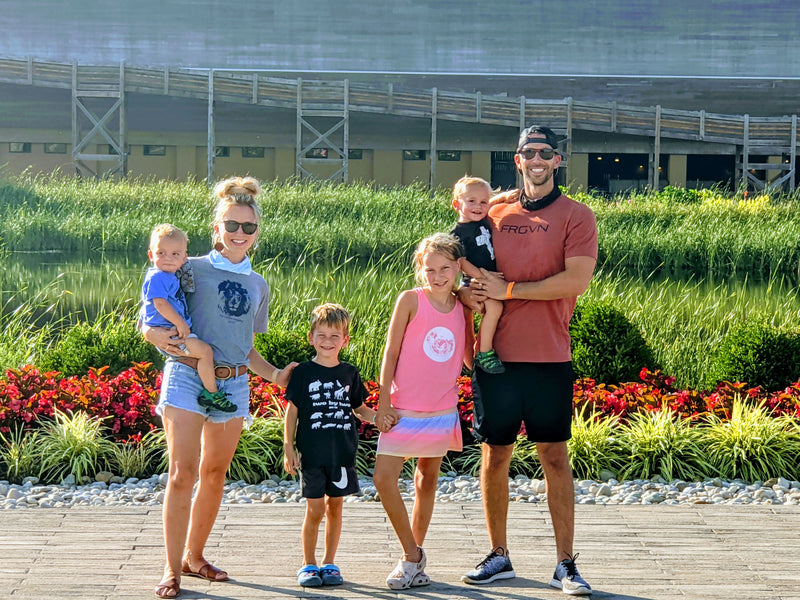 In 2018 our family decided to move from our home in Minnesota, where we were raised, to the sunshine state of Florida. Yes we were escaping the long, cold winters but more importantly we had felt a calling to Florida for a couple of years. Little did we know God would not only bless our move, He would also bless us with our third child... and our fourth. That's right we had twin boys Theo and Luke to add to our tribe along with Elizabeth and Adam.
Because there was simply not enough volume of hand-me-downs from older brother Adam, my wife Amanda had to shop for more and more boys clothes. She never had much trouble finding cute things for Elizabeth to wear but continued to tell me how frustrating it was to find cute, clothes for the boys without sports or super heroes. (For the record, we love sports and super heroes, just not relentlessly on our chests).
Having the frustration of finding clothes for our boys combined with being in an age of DIY, spurred us on to try our hand at designing some shirts of our own. We came up with a couple graphics, researched methods to get them on shirts an viola our boys were clothed. The best part was we had full creative control over what they wore. We decided to create Christian themed shirts all with a simple graphical representation from scripture and most with scripture reference hidden somewhere in the design. It became a fun and unique way to display scripture and ironically, show who our real super heroes are.
It didn't take long for our eldest and only girl Elizabeth to want in on the action. She voiced her opinion on some design ideas and we eventually caved on a Koala bear design. At this point you may be asking yourself; "Where are koalas in scripture?" Aside from some form of a small bear likely being on Noah's ark, there is none. But we were able to create a design of a smiling koala and add Proverbs 15:13 "a happy heart makes a cheerful face", so it mostly fit our motif.
It wasn't until some time after that, when I was having lunch with Elizabeth at her elementary school our vision grew. The noise and movement made it almost painfully obvious the number of young kids in the lunchroom. There were all kinds of shirts kids were wearing including those super heroes, sports teams and most of all big brands like Nike, Adidas, American Eagle, etc. I realized then the opportunity our children have, to be messengers. What an answer to prayer it would be if we could get hundreds, maybe thousands of kids eyes on God breathed messages He so desperately wants us all to see. Getting this many kids to read their bible may be a stretch, but what if it started one verse and one visual at a time delivered through a fun, comfortable shirt kids already like to wear? #wearyourfaith
We continued to create new designs inspired mostly from popular bible stories like Daniel in the fire, moving mountains, the great commission, and "two by two" for the ark Noah built. We started selling shirts online on Etsy and Amazon to get a feel for consumer interest and feedback. We also had a large order of shirts purchased by a local Christian boutique who sold our popular lion shirt as well as a Christmas themed design. We even attempted a pop up shop at a farmers market which resulted in more opportunity to tell our story than shirts sold, which was absolutely fine with us. All in all, it seemed people liked the shirts and the koalas were a hit with the young girls.
We are finally at place where we want to get more shirts on more kids. We want them to wear these life giving messages, have them be seen by other kids and maybe even generate some conversation or curiosity. There is strong research that shows an overwhelming proportion of people who dedicate their life and come into a relationship with the Lord, do so at a young age. We want to be part of that; and not just in the west where kids are free to wear whatever they want but also in foreign lands where Christianity is stifled and in many cases punished to severe degrees. We are dedicated to doing what we can near and abroad to bring the message is Jesus to these desperate children in even the most unaccessed areas. You can see more about who we partner by clicking on our Partners tab.
Thank you for reading about our story. Thank you for purchasing a shirt and wearing your faith. And most importantly, thank you for coming along side us in our mission.
Jared & Amanda (and kids)